Bike Touring Malaysia
by kaeru —
published

2023/03/29 21:10:00 GMT+8

,
last modified
2023-03-29T22:49:10+08:00
Current setup for light weight bike touring in Malaysia
Bike touring is an interesting and healthy way to explore and enjoy more of the local area, which are often not accessible or bypassed by highways. These notes are for casual bike touring, where if staying overnight, will be at some hotel or homestay place and not the hard core world touring type trips complete with tents and bike camping gear.
Choosing A Bicycle
You're looking for a reliable and comfortable bicycle for long rides, that will cruise along reasonably fast at around 15-20km/h at relaxed effort, and have enough low gears to easily ride uphill at times.
For gears look for those that have 11-34 or 11-40 rear cassettes. Those should be enough to get you up hills. These days, Shimano's low end road groupsets are quite reliable (Claris, Sora and Tiagra). I have had no issues so far with my Tiagra groupset, even when it was caked with mud going through some muddy paths.
The other is ability to have wider tires. Generally if you look for a bicycle with disc brakes and one of these groupsets, you should be good. I recommend looking around Facebook Marketplace or Carousell for good deals on second hand bikes that are lightly used. For a brand new one, and on a budget, Decathlon range is hard to beat, and you can get parts and service support as well.
Tyres
20km in for my first round longish bike tour attempt, I hit a pothole at speed which destroyed my performance road tyre. I was hoping that using a faster tyre would get me to the destination faster. Well that didn't work out.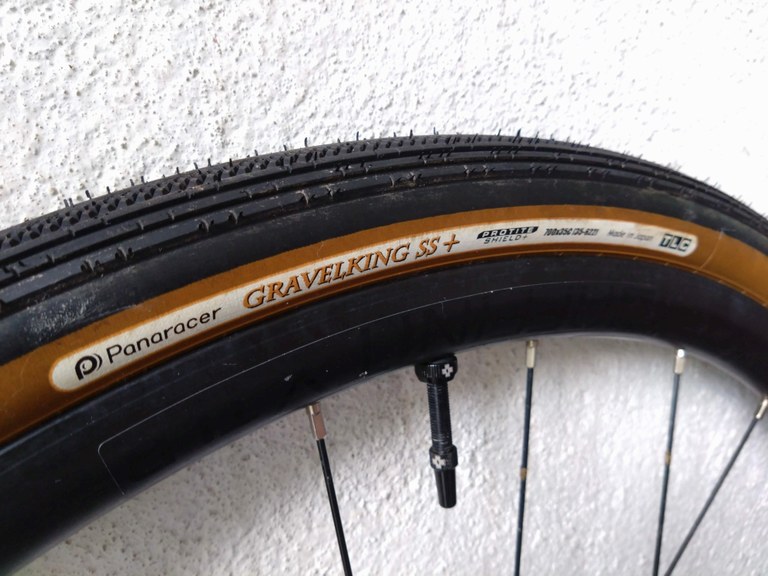 After that failed first attempt, I then decided to look around for a tyre that was tougher that can handle smaller potholes and rough roads better, but also not much slower either on smoother roads. So I went with wider 35mm tires and these Panaracer Gravelking SS+ tubeless ready semi-slick tires. They're able to handle unpaved roads, roll pretty fast on paved roads and come with reinforced puncture protection.
Also quite often, you're riding on road shoulders where there is a lot of debris, and stretches of road at times where it's under construction or damaged. On these, I didn't have to be that careful on rougher patches of road, allowing me to enjoy my riding more, and less about possibility of hitting small potholes or debris. So far these have held up for me without puncture for two trips totaling over 250km, including gravel paths and muddy plantation path.
Set tyres up tubeless
Mountain bikers have been using tubeless tires for years. With tubeless, most small punctures will seal automatically due to sealant inside the tyre. Which again means less worry and less time fixing punctures at the side of the road. If your wheels are tubeless ready, I highly recommend setting them up tubeless. I've already had a puncture once on my road tires, that sprayed some sealant on my seat post, but which I didn't even notice until I got back home 15km later, as it self sealed without much loss of pressure. There probably has been a small puncture or two on the Panaracers that I'm not even aware of. Finally even if you hit a catastrophic puncture which is too big for sealant or plugs to fix, you can always put in spare tube to make it to the next stop or home.
Tip: If you have trouble seating a large tubeless tyre, you don't need to buy expensive tubeless pump. Instead go to your local petrol station air compressor. There should be a button for "flat tyre" which will give you a large boost of air that should be enough for you to seat your tyres to a tubeless wheel.
Repair Kit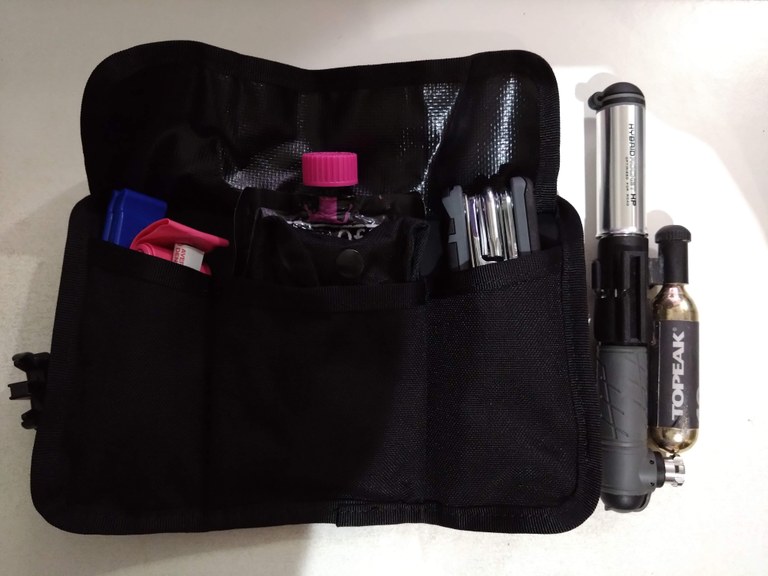 Speaking of punctures, you should also prepare a tyre and bicycle repair kit.
This consists of:
Tyre Levers
Spare tube
Sealant and Tubeless Repair Kit (if tubeless)
Bicycle multitool
Minipump
This doesn't take up much space, and will allow you to quickly get up and running from a puncture. Cheap light TPU tubes from RideNow allow you to bring 2-3 spares compared to traditional butyl inner tube. A multi-tool from brands like Topeak will usually have enough for random tweaks that you might need. So far I've used my multi-tool to fix a loose spoke and adjust saddle and seat height.
Safety Equipment
Malaysia isn't the safest place to cycle, so basic safety equipment is a must. Get a helmet, MIPs certified helmet is probably a good idea.
Also add front and rear lights. Both should have daytime flash mode that lasts at least 10-12hrs. This is essential to make yourself as visible from as far away as possible, in time for them to react accordingly. With flashing lights, in general I've noticed that most vehicles will slow down and give you wide berth when overtaking, especially on rural roads where they are used to slower traffic and people on the road.
Basic bicycle maintenance and experience
There are plenty of videos on Youtube, for basic bicycle maintenance. Recommend that before you go on that bike tour, if you're new to cycling, to get some experience under your belt first. This includes basic bicycle maintenance, like cleaning and minor adjustments for drive train, adjusting brakes, adjusting seat height and taking out and putting back on, your tires both front and rear.
Then go for local rides near your house and loops first, 5km, 10km then 20km. Once you can do 20km easily, then you can start trying to get to some local destinations of interest. More on that later.
Clothes and shoes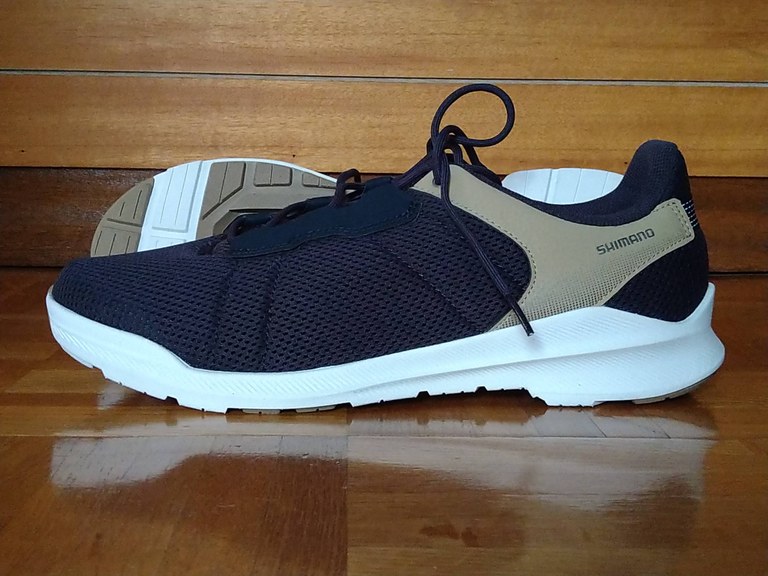 Whatever you feel comfortable in. I myself, prefer just normal hiking shorts and long sleeve shirts. The long sleeve SPF 50+ UV running shirts from Decathlon work well for me.

Decathlon neck buff/head band is also really useful. To keep the sun off your neck, or as a mask when the roads get dusty.



You can use normal shoes and flat pedals, but I found that for long rides, that I preferred riding clipless. For touring, Shimano SPD system works well, as the cleats are recessed in the sole, and you can walk around with them normally. Plenty of choice for mountain bike shoes. I liked the casual look of the Shimano EX 300. Also recommend SH-56 cleats, which can unclip easily for quick stops and emergencies.
Hydration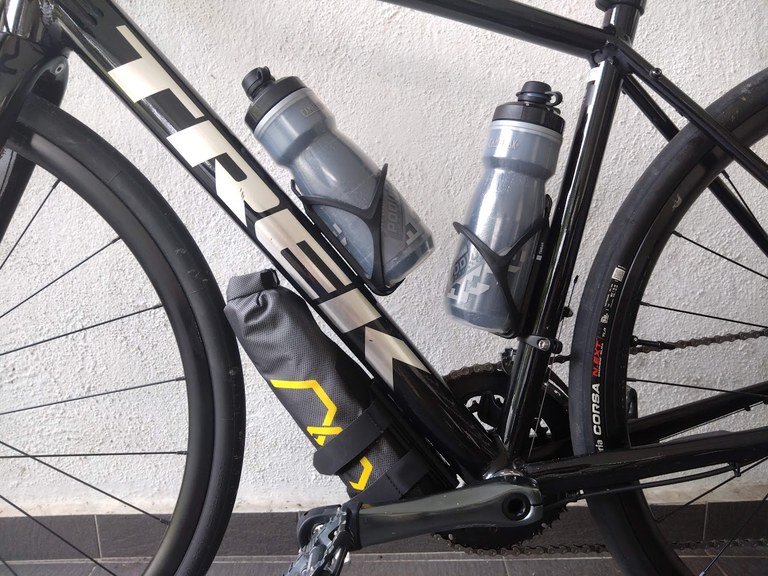 Hydration is absolutely essential in hot tropical weather. Plan for at least 1l per hour during cooler mornings, and 2l or more during heat of the day. Just keep drinking. Bottled water and cold drinks are generally available from shops and eateries in every town or village. Check your route, to make sure you have enough water for each leg. Whenever you get the chance, refill and top off your water bottles.
Bags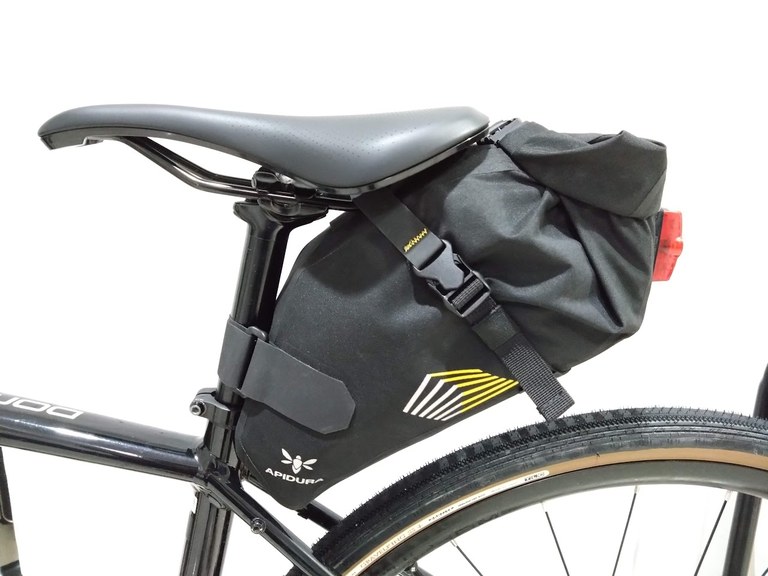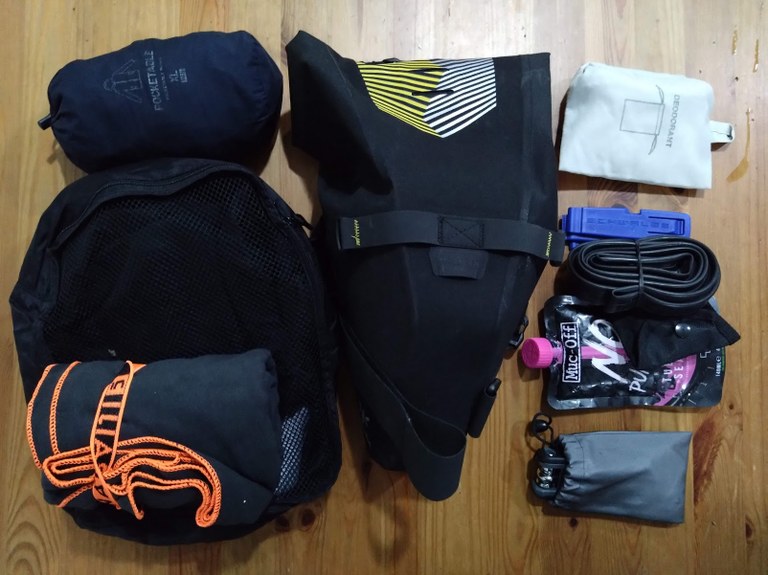 For casual touring, you don't need to carry much, so a 7-10l saddle bag, a top tube bag and maybe a handlebar bag will be more than enough. These days, there is a wide selection to suit all budgets and preferences online on Shopee.
I usually pack in saddle bag:
A change of clothes, socks etc.
Compact large towel
Light rain jacket
A plastic bag for sweaty clothes
A first aid kit for simple cuts and grazes (plasters, gauze, antiseptic spray, wet towels)
See travelling light guide for tips on packing light.
In top tube bag:
Powerbank and charging cables
Small compact towel
Sunscreen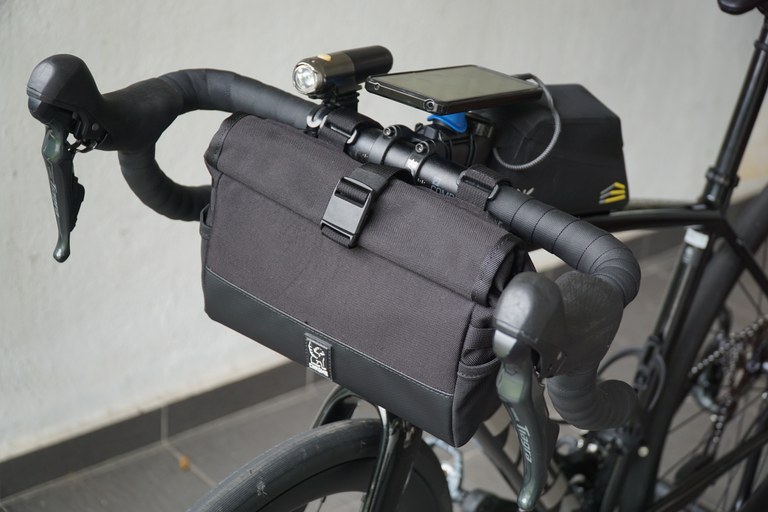 Handlebar bag:
My handlebar bag is a bit interesting, because it actually converts into a sling bag. So I can easily take my valuables with me at stops. A more detailed review of it here.
From experience, I might also add a handlebar feed bag in future to be able to quickly put additional cold bottled drink and snacks.
Planning Routes with Komoot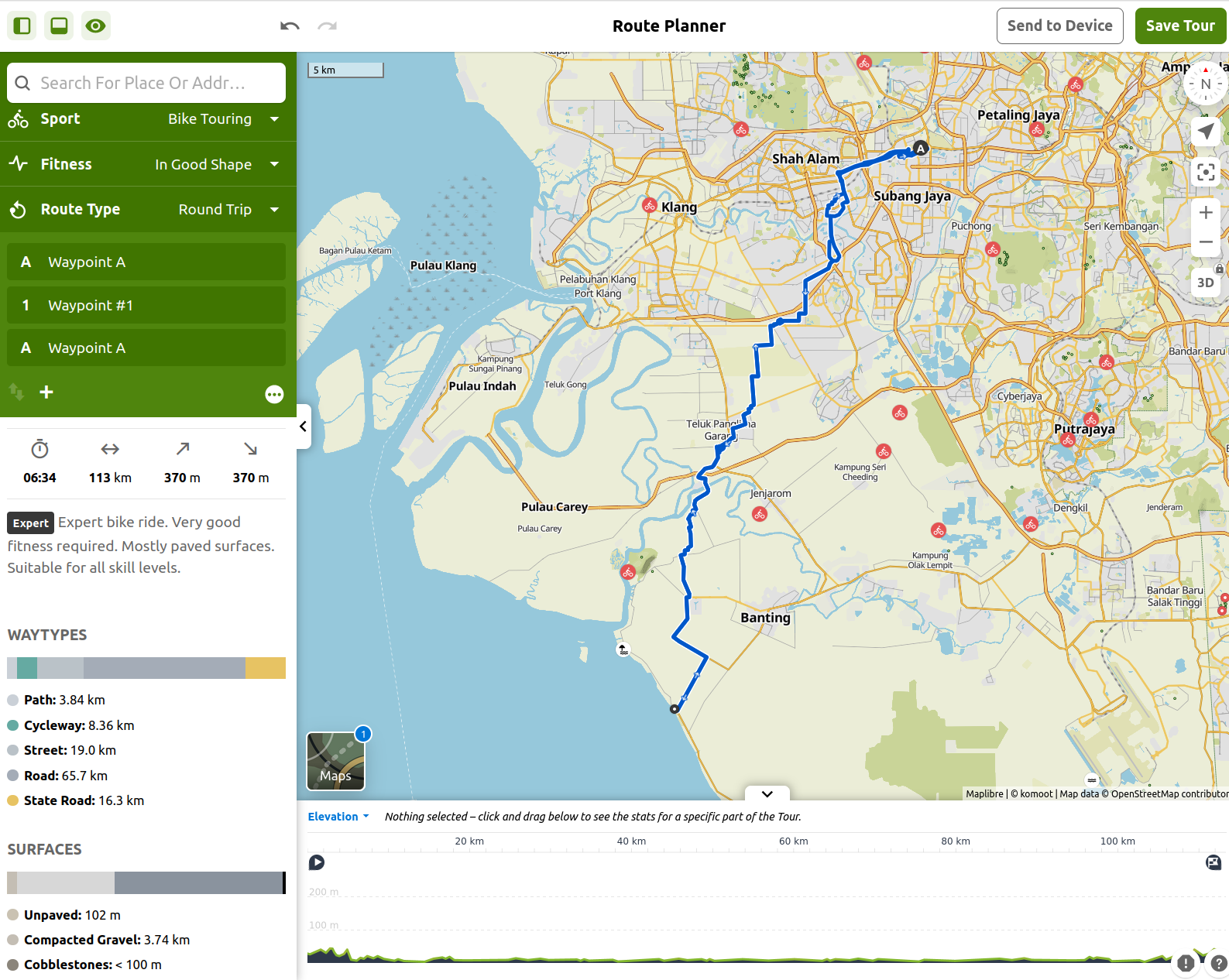 Kuala Lumpur is a car-centric city, filled with highways and dangerous wide 3-4 lane roads with fast heavy traffic. Before this app, it was unimaginable for me to go bike touring. How can I reach places safely by bicycle?
Komoot is both an app with navigation, and also website that suggest routes using OpenStreetMap and other data, that surprisingly provides quite detailed and interesting bicycle routes. It also provides highlights, tips and other tours shared by other cyclists and hikers.
The web planner includes features such as elevation during route, and where available Google Streetview so you see how a road looks like, eg. is it safe?
The route changes slightly when switching between road bike and bike touring. Bike Touring, tends to route your through villages, suburbs and various shortcuts, sometimes unpaved, while Road Bike will stick to paved roads only and a more direct route between points.
From experience, you should switch between both options when planning your route.
Start with Bike Touring option. Bike touring for the most part routes you through safer and quieter roads. Bike touring though sometimes puts you on some unpaved sections, and these can be pretty good hard packed smooth gravel, to muddy tracks with deep potholes through plantations more ideal for hard core gravel bike riders than casual touring.
With Bike Touring option, start with your destination and endpoints either return or a loop, and then add various points in between of interest that you want to pass by along the way.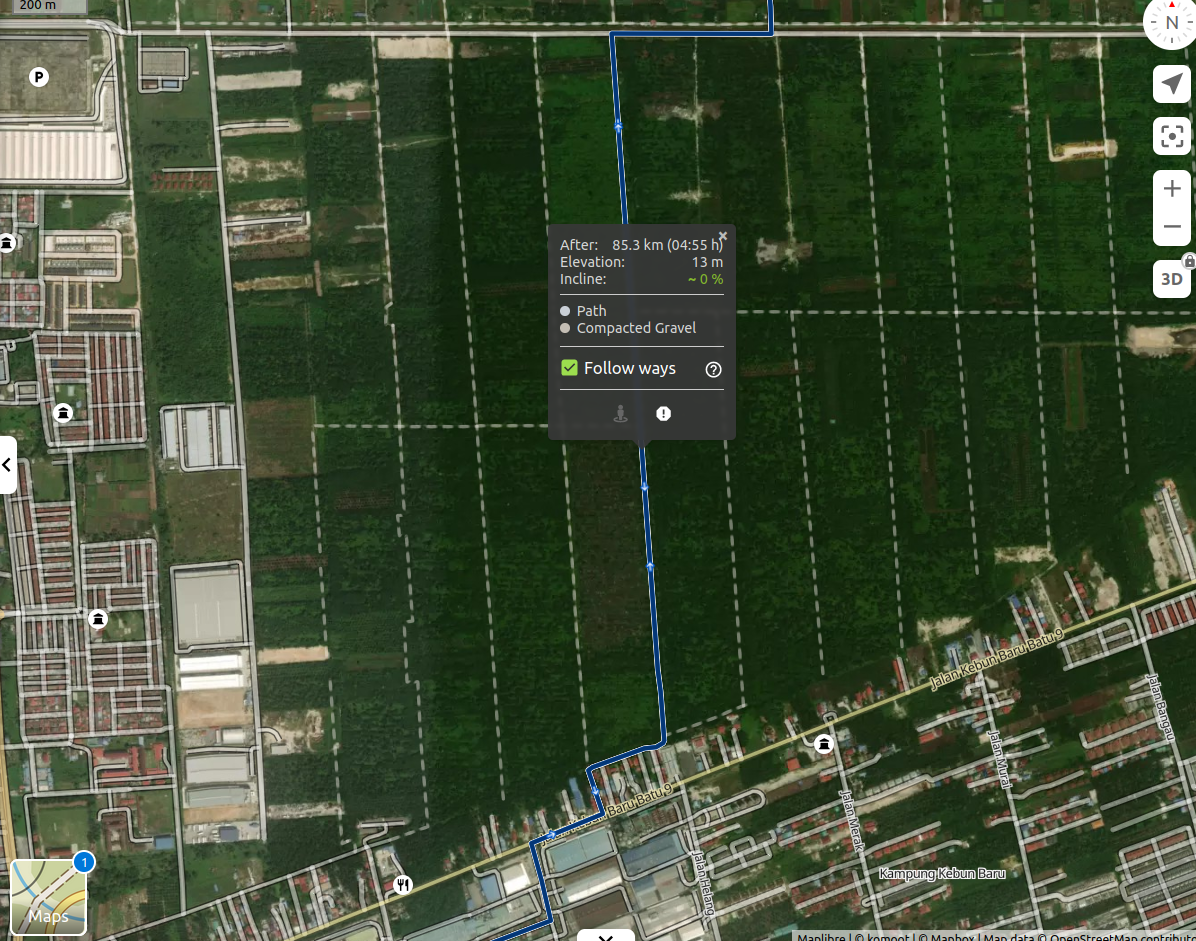 Switch to satellite view, so that you can see roughly what kind of area the routes are going through. On the left there is a Waytypes, you can click on the types of paths to automatically zoom in to the sections on the map. If there are multiple sections that are paths for example, you can click on it multiple times to zoom in automatically to all parts that are paths. See if you Google Streetview feature when selecting points, is close enough to the path entrance to see if you can get an idea of the condition. The satellite view also gives you indication of what that path goes through.
In the above example, this section of the suggested route is going through a plantation that is now overgrown with weeds and wildlife. So you would will want to add additional points to not go through it.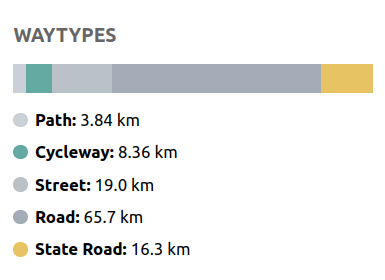 This is when you switch to Road Bike type, to see the suggest route for that section, if requirement was good paved roads only. Add the additional points to route around the bad paths accordingly.
Then switch back to Bike Touring.
For West Coast, Malaysia has quite extensive coverage of Google Street View. For intersections etc. you can double check out how safe it is. OpenStreetMap often also includes pedestrian crossings, bridges and such, so you can plan alternate safer ways for crossings. In my experience, there are only a few of these inevitable sections of the route that are not that safe. But it can be different depending on where you live. You may need to take train for example to get start at some place safer if you're surrounded by bloody impassable highways.
General tips
Avoid cycling in heat of the day 10-4pm. It's just not enjoyable. The point of touring by bicycle for me at least, is for it be enjoyable, not to suffer.
After two separate 100km day long rides, I've learned that in future, to not rush it and have to ride in midday heat. Plan for a very early start, and to reach a destination before it gets hot. So if you start at 6am then maybe 30-40km for 3-4hr ride, including stops and taking in some sights.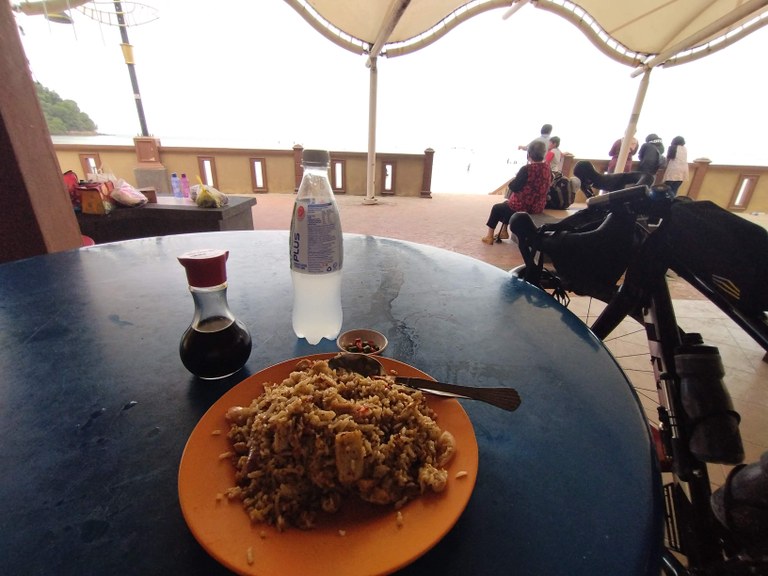 Then at the destination, enjoy a long relaxing lunch, an afternoon nap or something until it gets cooler after 4pm for the return trip back.
Alternatively, book accommodation, enjoy sights and food of the destination and have a good nights sleep, and have another cool early morning ride on the way back.
That's all for now, and hope you have an enjoyable tour, see the Malaysia you won't normally see when traveling by car and highways.
You can see some of my completed and planned tours on Komoot.