Chrome Doubletrack Handlebar Sling
by kaeru —
published

2023/01/20 13:25:00 GMT+8

,
last modified
2023-01-20T13:42:33+08:00
Perfect camera bag for bike touring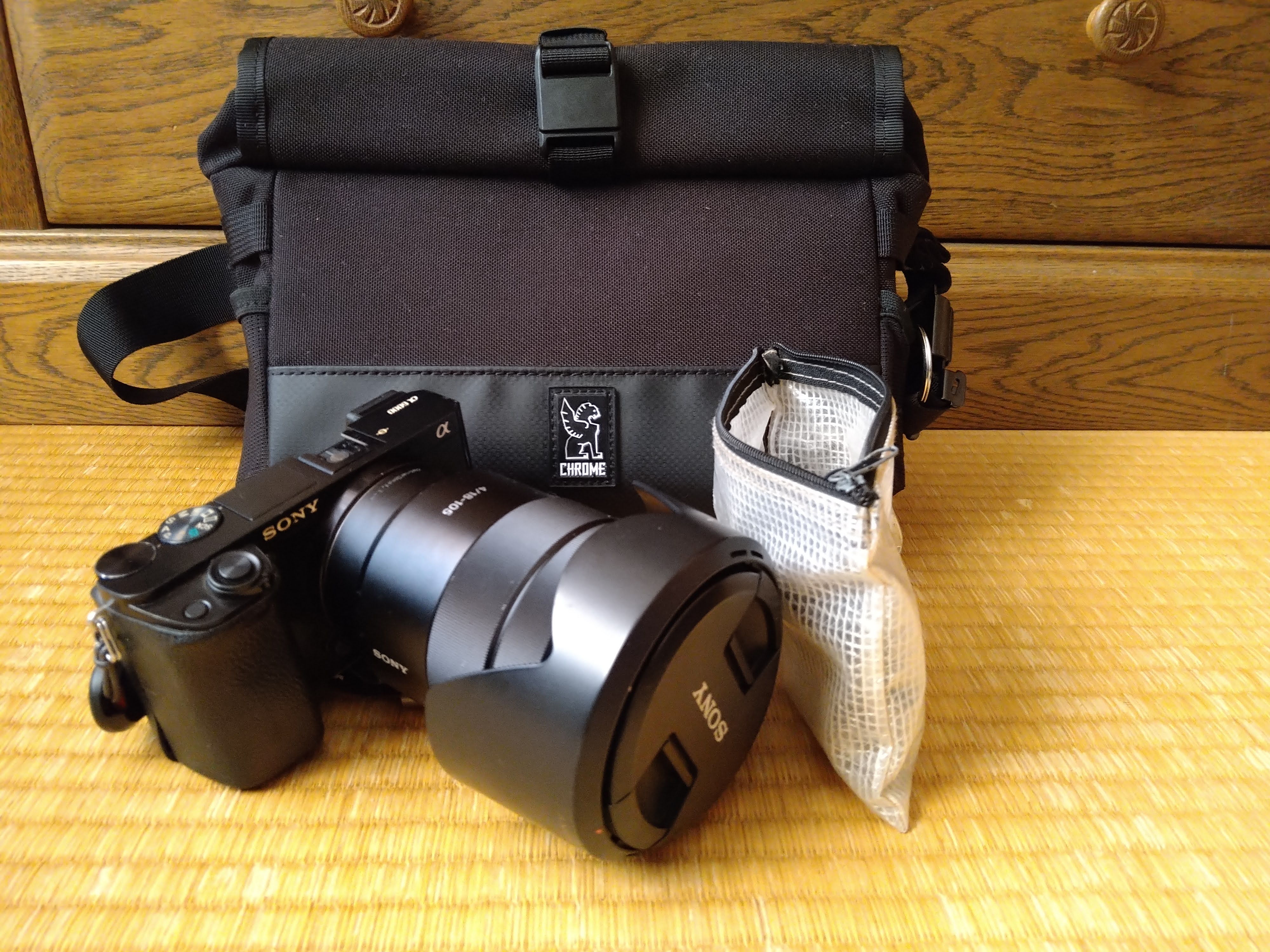 Was looking at how to carry my camera, when bike touring. For day to day, it's fine inside a backpack or my everyday carry (EDC) sling bag. For longer rides of 40km or more, larger lens like my favorite travel lens the 18-105mm, starts to put a strain on the shoulders. Even though the APS-C Sony a6000 is not very big, with the lens it's a bit too wide for top tube or frame bag. And it would not be easily accessible in a saddlebag. That leaves handlebar bag as one of the few possible options.
After looking around, it would seem that Chrome's Doubletrack Handlebar Sling bag would fit my needs.
Large enough to hold my camera with space to spare
Camera is easily accessible while on bicycle.
Can also double up as a sling camera bag.
The online reviews I could find online didn't put in a camera of similar size, so I had to check it in person first. Luckily it was the perfect size.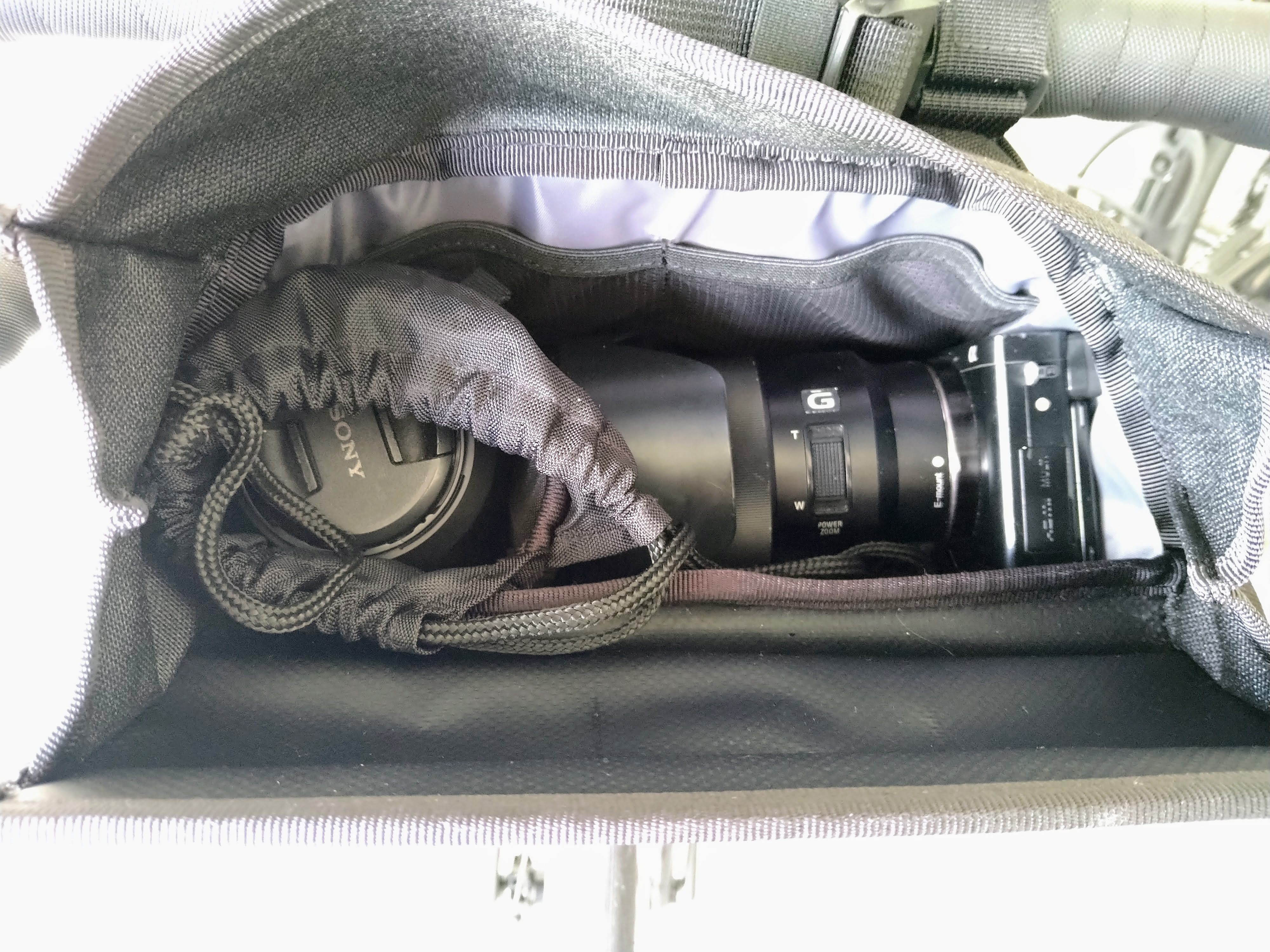 As seen here there is plenty of space, to hold the camera, and spare lens or other equipment. Additionally there are two internal mesh pockets to fit in wallet, and other stuff like spare batteries, lens pen etc. And two external mesh pockets as well.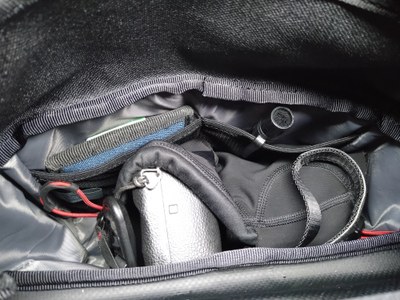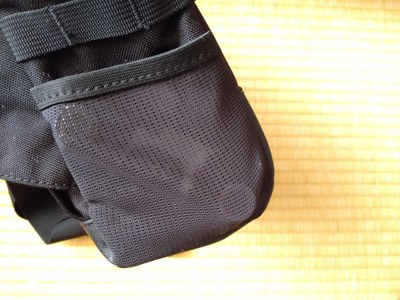 Mounted on the bike
One issue with handlebar bags, if you have an out front mount for your cycling computer or smart phone, the mount will block access to your handlebar bag. My usual out front mount for my phone blocks access from over the top of the bars, and the light attached to the bottom of the mount, also has to be taken out just to attach the bag. If you want to use it with your out front mount, you're going to give up on having contents of the bag being easily accessible. That's a no go for me, because then, what's the point of carrying a camera that you can't use while touring?
The solution for me was to switch to a stem phone mount, when setting up my bike for touring.
On a medium sized 52cm frame road bike with 32mm tires, there is plenty of tire clearance. It's quite easy to put on via 2 velcro straps and a small stabilizer strap, to prevent it from bumping up and down.
With phone stem mount, the phone doesn't block access, and the roll top opens quite wide and makes my camera and other contents easily accessible.
It's converts to a Camera Sling Bag!
This feature is what makes it the perfect bike touring camera bag for me. At the back there is a compartment, where you can slide out  the straps to convert it into a sling bag, when off the bike. The straps are even wide enough, to hold a Peak Design Capture Clip, which is my preferred way of carrying a camera when taking photos. Now when touring, and you want to explore on foot, stop by a restaurant, you now also have a small bag to carry your camera and valuables with you as well.
Other reviews