Travelling Light
by kaeru —
published

2022/03/23 01:37:00 GMT+8

,
last modified
2023-01-22T11:14:19+08:00
Equipment and packing tips for civic tech researchers and journalists
Important note that these are my generic packing tips. What you bring/pack for is situational, always check in advance weather, transportation and political situation.
In addition to the typical conferences, if you're doing civic tech research or investigative data journalism, you are going to need to do some legwork. Verifying and collecting information as well as recording media, will require you to travel and do your work in a variety of places. We should also be prepared for problems such as flight cancellations, storms, floods and political unrest.
2013, Jakarta was flooded, and I had to wade waist deep in some places before you got to drier parts where you could catch a taxi (maybe) to get somewhere else. In 2008, protesters shut down Bangkok international airport for 2 weeks. I flew out just a day before Bangkok airport shut down, if my flight was the next day, I would have needed to take a long bus ride to Phuket or Hat Yai and then more buses to get home.
You don't want to get stuck in these situations lugging a suitcase, heavy backpack, no change of clothes or water damage to your equipment.
Backpack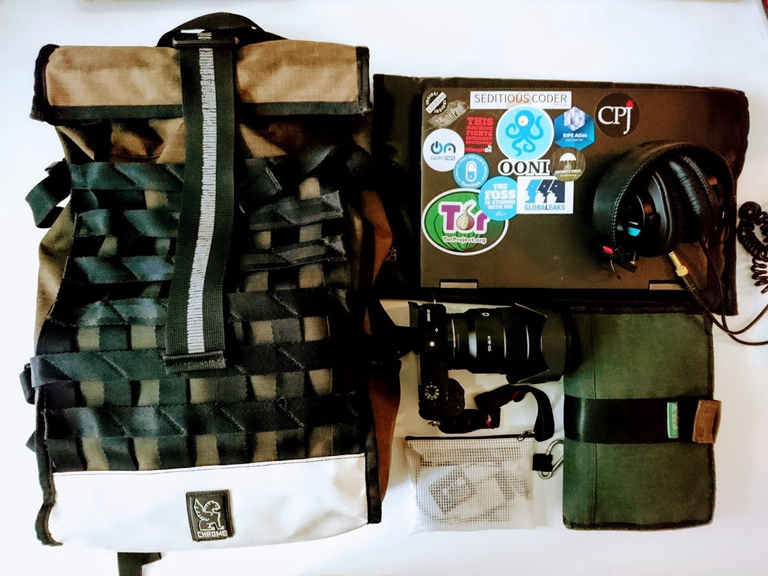 It should be small, usually called a day pack. As a general rule it should not be bigger than 40L in capacity. It should be small enough to for cabin luggage on smaller airplanes, and not too bulky to have on your back on a motorbike or bring onto a crowded bus. 30L size backpack will also ensure you pack light and carry only what you need. Weight is everything, we want to keep our total weight below 10kg, ideally 8kg. Both for practicality but also some airlines are stricter on this, especially budget airlines and small local planes.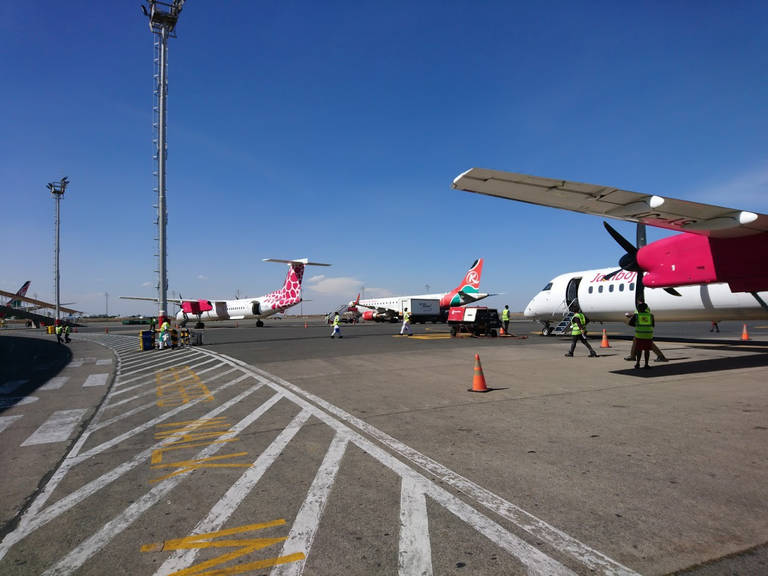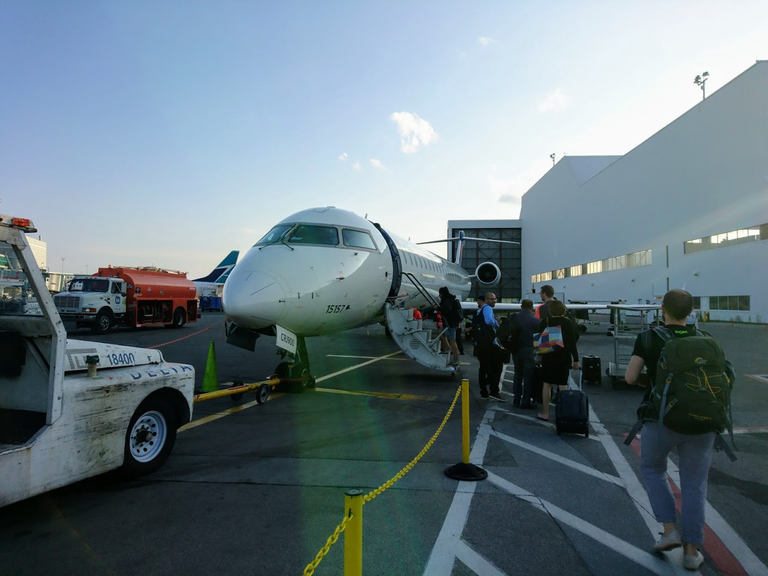 It should be expandable, to be able to handle sometimes bulky items possibly externally such as umbrellas, extra shoes, water bottles and tripods. Roll tops are good. So are bags with netting or straps for items that won't fit neatly into a small bag. We pack light, but should be flexible to carry additional items if needed.
It should be waterproof, especially if you're going to work in tropical areas. Alternatively, you can also get a strong waterproof cover that you wrap the entire backpack in. Or a waterproof dry bag insert like those from Hyper Gear. Small airports don't have Passenger Boarding Bridge (PBB). If it rains, you're going have to walk to the terminal in the rain. Also for places only reachable by boat or bus. You don't want to get your equipment and change wet.
Clothes
Rule of 4. Wearing one set, pack the other 3.

The rule is basically to have 4 sets of clothes. If you're traveling for extended period of time, you will have to do laundry. A set of 4 will generally allow you to go for maybe 3 days without doing laundry.

For tropical or hot weather:
4 sets of "dry" lightweight shirts and underwear. They go by multiple names depending on brand, Airism, DryFit, Climacool etc.

4 sets of socks.

2 long sleeved collared shirts (for work/smart casual). You can roll the sleeves up if it's hot.

3 sets of "dry" pants

Light training hoodie or light pocket-able rain jacket (depending on situation). Light rain jacket keeps you warm in forests when it rains (it does get chilly) or long flights, but not too hot.

Cap / Hat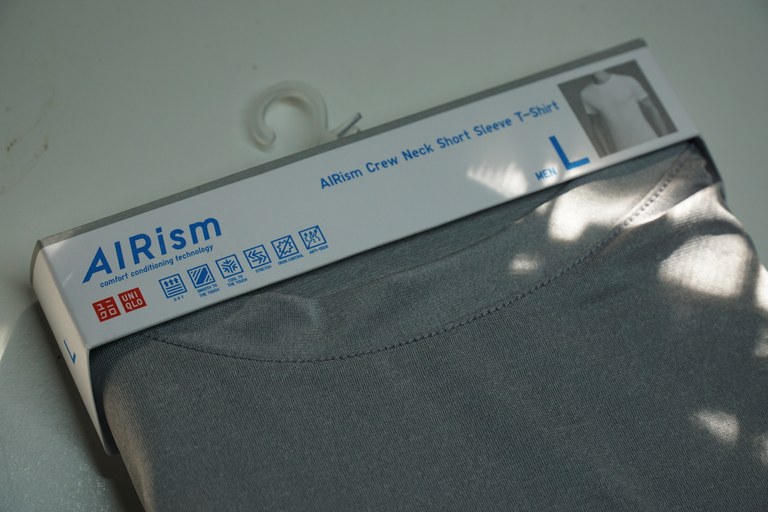 My personal preferences are for Uniqlo Airism and also Adidas Climachill for light shirts and underwear.
For pants Columbia Silver Ridge convertible cargo pants, lots of pockets, and the water repellent version is great in light rain and for accidental spill, in addition to being lightweight and quick to dry, they can also convert into rather uncool but very practical shorts in a pinch. It also comes with nice lightweight plastic buckle that is convenient for going through metal detectors.
For colder weather (0–18C):
4 sets of lightweight thermal underwear long sleeve top and leggings.

4 sets of socks.

2/3 sets of long sleeve cotton/flannel shirts.

3–4 sets of "dry" pants.

Hoodie

Windbreaker

Cap / Hat
For colder weather (0C and colder) same as above but:
Down jacket, that can be compacted down (swap out the windbreaker for this instead)
Extra warm leggings (swap out the lightweight thermal leggings)
Water resistant shoes/boots
Pair of winter gloves.
For colder weather, layering works best to stay light. I personally like Uniqlo Heattech for layering thermals as they are thin and lightweight.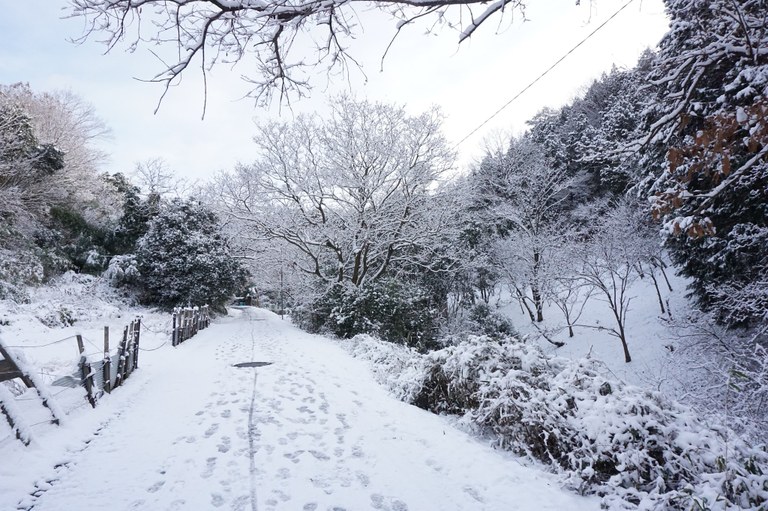 Below zero, and you need to bring a down jacket, and thicker leggings. You lose a lot of heat through your legs, and thicker leggings keep a good job of keeping you warm, while, not needing to bring thick lined winter pants. Down jackets are mostly air, so they compact down quiet well when packing also.
Snow is basically water, and around 0C, ground isn't quite cold enough to keep snow from thawing, so it's just like really really  cold rainy weather. So water resistant footwear is recommended if the forecast is wet weather. It'll also be warmer, than normal breathable non-water resistant footwear.
Once, it goes below zero, a pair of gloves is a good idea to pack, unless you want to keep your hands in your pockets all the time.

Except for hoodie, windbreaker or down jacket and the set you're wearing, the rest should be able to fit into a single packing cube around the following dimensions 26x40x10cm that will neatly fit into your backpack.

For 2 week trip from Kuala Lumpur, London and Buenos Aires, I could still combine both weather combinations and still fit all my clothes into a single cube.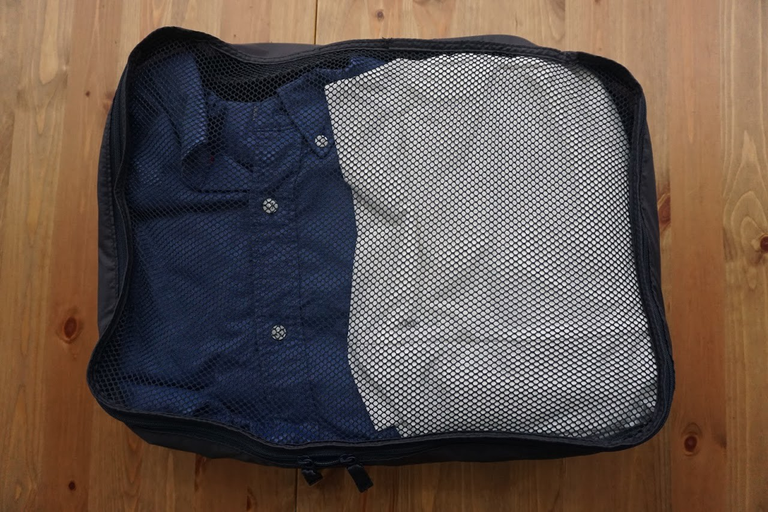 Doing laundry.
Do laundry, every chance you get for your underwear and light shirts, usually at night. One benefit of quick dry clothes, is that they will air dry overnight in a room, and as quickly as an hour or less outside in sun. You can just hand wash them in a sink with a bar of soap, if there are no local laundramat around.

Finally, don't stress out too much about clothes. Unless you're going out into the wilderness for weeks on end, if you're short on anything, you can just buy something you need locally.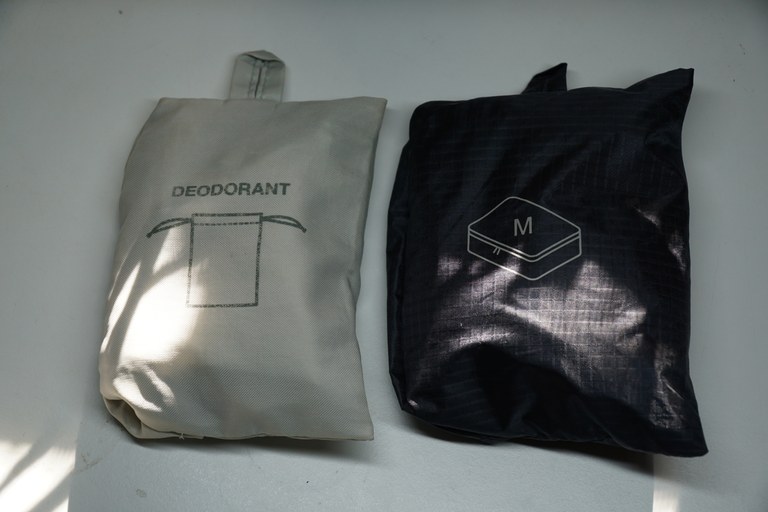 Also add a small laundry bag to separate unwashed laundry. I carry and use a small odour reducing pack-able bag from Muji to Go, but any small reusable plastic bag or pouch will do.
Personal Accessories
This one will vary quite widely depending on individual.
For me:
Meds — Flu, antihistamine and indigestion tablets. Anti-fungal cream (especially for tropics)

Roll-on deodorant

Travel toothbrush and toothpaste

Shaver

Comb

Nail cutter

Travel sized plastic bottle of shower wash (you can restock on these at nicer hotels that give new ones, even if you don't finish current one)

In a simple small bag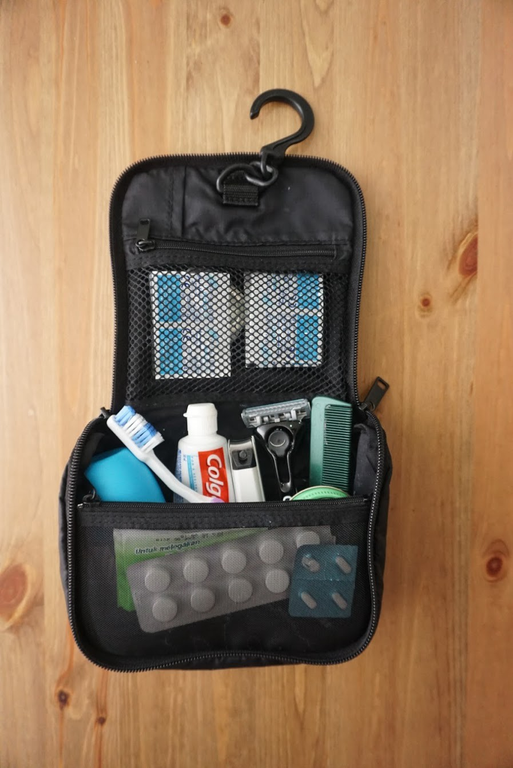 Documents, pens and cables
Boarding passes, passports, notebook, headphones, phone charger cables, receipts, tickets, pens.
I keep this neatly organized in a small folio, the Scribblebook Journal from Greenroom136.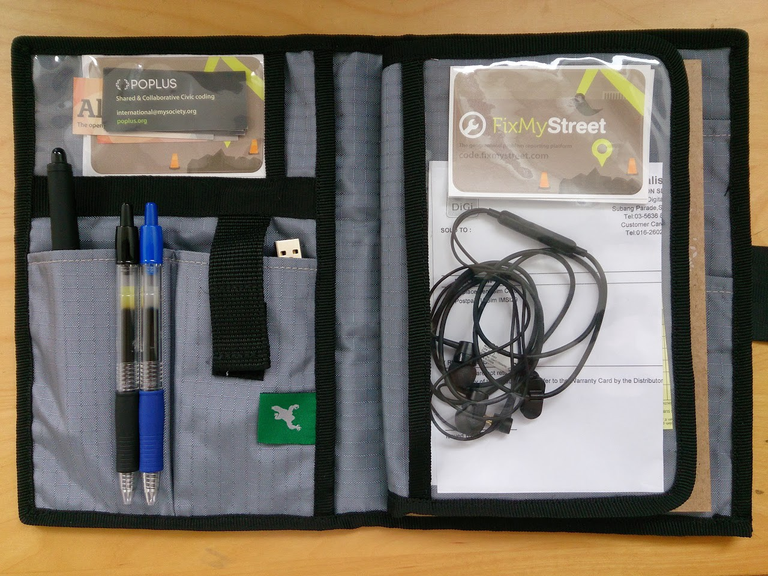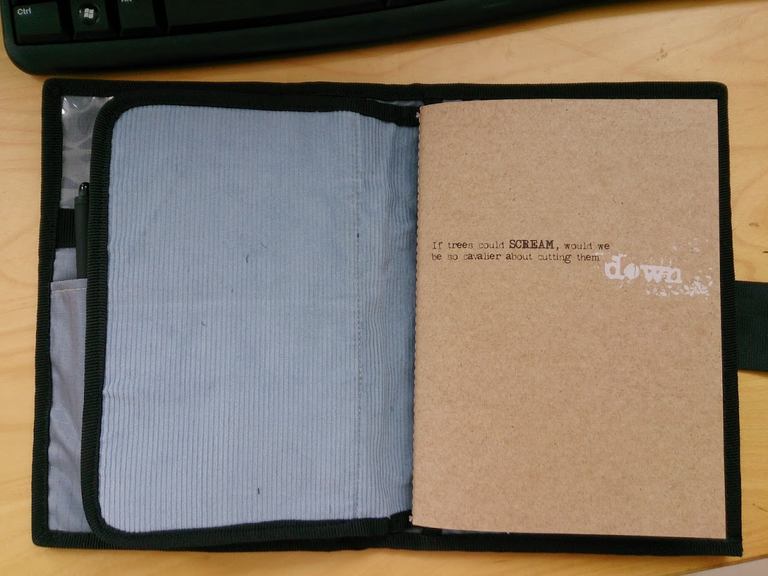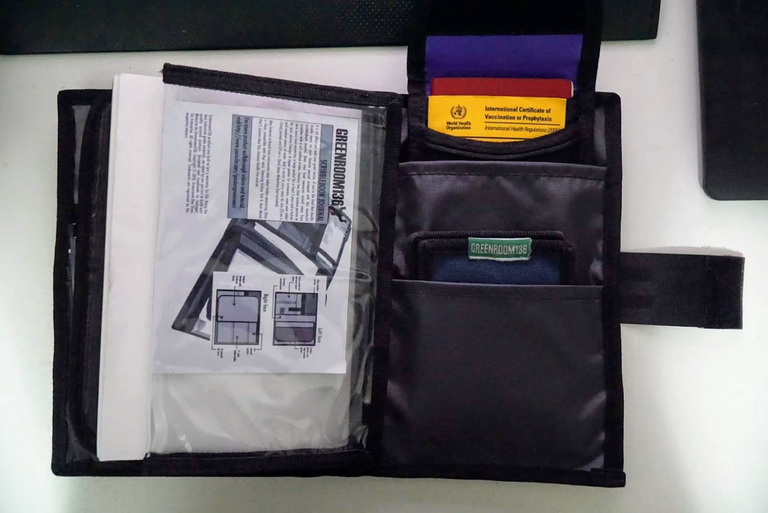 Compact Umbrella
Always good to bring along a small and light compact umbrella for when you need it. Flat ones are the lightest and smallest, and because they're flat and don't take up much space, but they also tend to be smaller with diameter of 90–100cm. Will keep you less wet in heavy downpour if you're caught out, great for light rain, and shade under hot sun.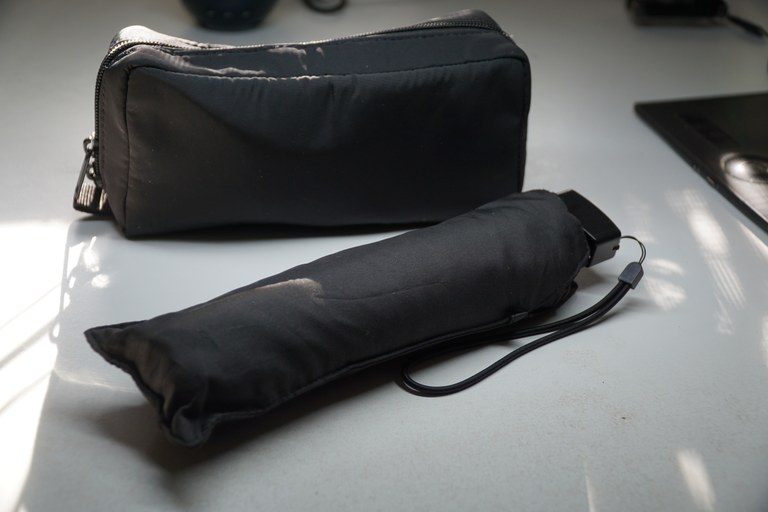 Tech
My current laptop is Thinkpad X270 with external swap-able 72khw 6 cell battery. It's barely over 1kg with 15–20hr battery life. With a spare charged battery you work for 2 full days without power supply. Best of both worlds, long battery life and light. It's US MIL-STD-810G compliant too, and having used a Thinkpad X variant since the X40 10 years ago in a variety of environments, dusty, cold and wet, on bumpy buses on dirt roads, they haven't failed me yet. I don't even use a sleeve, saving more space and making it easy to take out at airport scanners.
Any modern smartphone with water resistance and largish battery will do. A small battery pack just for the phone is not a bad idea.
Tip: Print your boarding passes, itinerary with e-ticket and booking number, along with phone and address of accommodation and local contact person if it is safe to do so, especially if you are from a country that has strict visa requirements for entry or transit. These are standard information that you will be asked for to fill in for entry forms and by immigration. I usually have it as a pinned note on my phone, but it's always good to have hard copy backup
Charger and Accessories
The new GaN chargers are small and light. Along with USB-C Power Delivery or PD standard, we can now get rid of bulky laptop chargers, and have a single compact 65W charger, and a few USB-C cables that can charge your laptop and all your electronic devices. I can now fit and organize chargers, cables and electronic accessories in a small pencil case.
The Aukey USB-C travel adapter is one I'm currently using. 2 USB A ports, USB-C, universal main socket, plus additional US style 2 flat socket on the side. More than enough to charge various small devices, and two sockets for more powerful USB-PD chargers.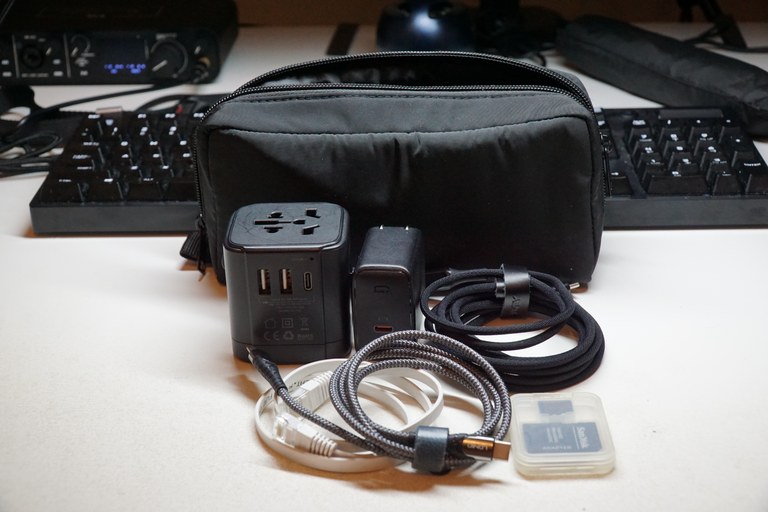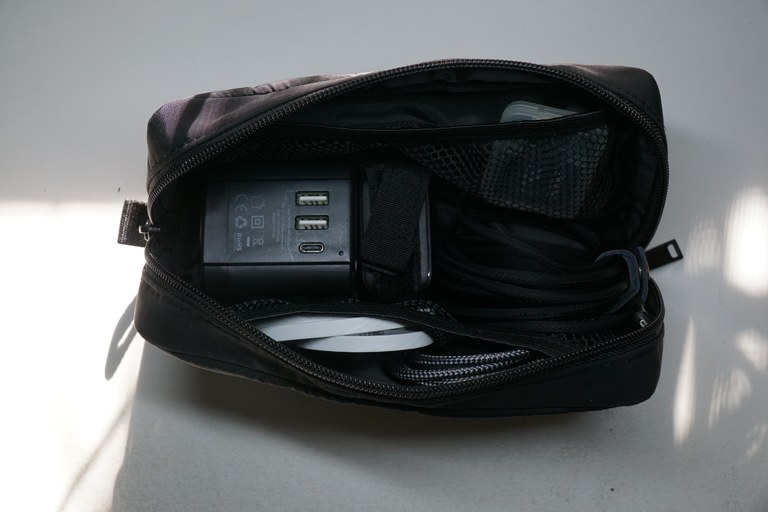 Camera Gear
I stick to Sony APS-C camera and lenses to keep my camera gear as light as possible. Accessories that I use, along with how I carry my camera gear, in as compact and lightweight manner as possible, is covered in detail in my Camera Gear notes.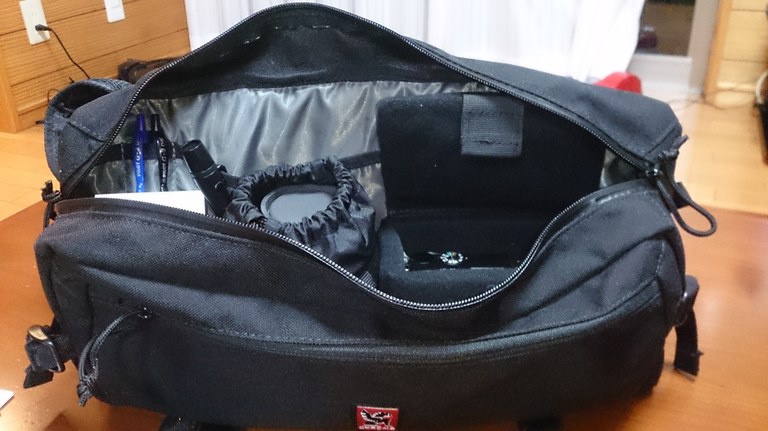 Personal Entertainment
Since I'm literally living out of a backpack, I also bring some creature comforts such as a small portable waterproof Sony SRS-X1 speaker. An audio cable and a DAC/bluetooth headset with 3.5mm, can also turn any existing speaker in room or cheap stereo set into a bluetooth speaker. If you like listening to music, they double as really nice portable high quality DACs for your laptop too. FIIO BTR and Qudelix 5K are pretty good choices.
My Xperia phone, has a 3.5mm headphone jack, so I can listen to music continuously on long trips. A micro-SD slot for the phone also means I can bring a large amount of my music collection and not depend on Internet connectivity for my music. USD50, 400Gb microSD card now can easily fit a library of over 20,000 lossless audio files.
An old 2-pin to 3.5.mm airplane audio adaptor is worth bringing, if you want to use your own headphones for planes with older in-flight entertainment systems.
Bring a spare light HDMI cable and you can use hotel TV as secondary display or speakers for entertainment.